Revolution for Cats & Dogs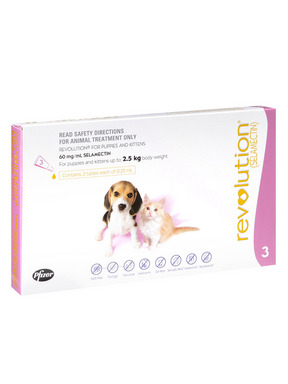 Revolution for Cats & Dogs
Kills adult fleas, flea eggs, and flea larvae in the environment. Treats, controls, and prevents flea infestations. Controls Flea Allergy Dermatitis (FAD).
For the prevention of heartworm disease (with monthly administration) caused by Dirofilaria Immitis.
For the treatment of ear mites (Otodectes Cynotis), adult roundworms (Toxocara Cati), adult intestinal hookworms (Ancylostoma Tubaeforme), and biting lice infestations caused by Felicola Subrostratus.
Revolution for cats doesn't come with Canex but is already formulated to fight against roundworms and hookworms in cats.
INCLUDES FREE CANEX WITH REVOLUTION FOR DOGS
Style Number: PFI02-CONFIG
Product Detail: Revolution for Cats & Dogs
Revolution for Cats & Dogs
Revolution is a safe and simple way to protect your pet from a range of common parasites. It prevents heartworm disease while treating and controlling fleas (including flea eggs and larvae) and ear mites in both cats and dogs, hookworms, and roundworms in cats and sarcoptes mites in dogs. This effective medication is applied to the skin of your pet once a month.
How Revolution for Cats & Dogs works
After applying, Revolution is quickly absorbed into your pet's bloodstream, skin, and hair, killing fleas, heartworm, and other parasites that can harm your pet. Revolution will then protect your pet for an entire month. As Revolution moves into your pet's skin and hair, it goes straight to killing fleas, flea larvae, flea eggs, and other external parasites.
What is the active ingredient of Revolution for Cats & Dogs?
Active ingredient:
What is the proper administration of Revolution for Cats & Dogs?
Revolution Flea Control is a once-a-month topical application for dogs and cats. Application is quick and easy and the product should only be applied to a dry animal. The product is waterproof, therefore, normal bathing, swimming, etc. can continue after two hours.
The correct tube size should be selected for each animal and individual tubes should not be shared between several animals. The cap on the tube should be pushed downwards onto the tube until a "click" is heard and then the cap should be removed. The hair at the base of the neck should be parted to skin level and the entire contents of the tube squeezed onto this area. Do not rub in the liquid.
The concentration of the active ingredient in the Revolution for Dog and Revolution for Cat products is different so the correct package should be used for the correct breed as noted on the package label.
The doses and pack sizes are as follows:
Revolution for Cats
Puppies and kittens up to 2.5kg - pink pack
Cats up to 7.5kg - blue pack
Revolution for Dogs
Puppies and kittens up to 2.5kg - pink pack
Very small dogs 2.6-5kg - purple pack
Small dogs 5-10kg - brown pack
Medium dogs 10-20kg - red pack
Large dogs 20-40kg - teal pack
For dogs larger than 40kg - use the appropriate combination of sizes.
What are the precautions when using Revolution for Cats & Dogs?
Prior to the administration of Revolution, dogs should be tested for existing heartworm infections. At the discretion of the veterinarian, infected dogs should be treated to remove adult heartworms. Revolution is not effective against adult D. immitis and, while the number of circulating microfilariae may decrease following treatment, Revolution is not effective for microfilariae clearance.
Hypersensitivity reactions have not been observed in dogs with patent heartworm infections administered three times the recommended dose of Revolution. Higher doses were not tested.
---
---
Revolution for Cats & Dogs
Ratings & Reviews
Based on
821
Review(s)
Most Recent Reviews
amweis83@yahoo.com
Written by
Andrea W
Apr 08, 2016
Revolution is one of the best Flea Control Products on the market. We use to be able to purchase it at our local stores, but then they no longer carried it. We had to go with another brand as we needed protection asap, but found the other product was not working, our poor dog was consistently scratching and licking all over to where she was causing sores. She was a mess, we took her to the vet, they gave her steroids to help her heal, but told us we needed a better flea control... so we started looking online for Revolution as we knew it worked and found Pet Shed... thank you Pet Shed! You have been a life safer to our pets. We buy for both cats and dogs, fast service, always a good experience with Pet Shed. Highly recommend Revolution and Pet Shed!
Revolution for Cats
Written by
Paul Jackson
Apr 08, 2016
It works well. Put it on once a month and your cat is safe from fleas and all those other evil beasties. Price keeps going up though, and I never seem to get any of the discounts Pet Shed says it has.
save $ on prescription
Written by
michele
Apr 08, 2016
Revolution is prescribed by our vet, but with 3 dogs is very expensive. I know have an affordable way to keep them safe from heartworm.
Easiest way to buy Revolution
Written by
Larna Brown
Apr 08, 2016
I have bought Revolution for my Chow/ Golden mix for years from Pet Shed. The product always arrives within a few weeks of ordering, and price is reasonable.
Great for all outside pets
Written by
Garry
Mar 29, 2016
We live on a farm and have 100% outside dogs and cats. We use only Revolution to treat and prevent all the bad bugs and critters. When we keep up on the schedule and use it regularly, the animals are free of fleas, ticks, worms, etc. Great product and would recommend to anyone.
Dogs Eat Bad Things
Written by
elkirko
Mar 16, 2016
.. so sometimes they get worms. if only the dogs could obey the Torah and eat clean food, hahaha. until that happens there is Revolution.. kills worms and also handles fleas.
Cat Meds
Written by
Prin
Mar 11, 2016
Revolution for cats is the only thing I'll use on my felines. Works great.
7 Cats
Written by
Skitty06
Mar 09, 2016
I have 7 cats and it is very expensive to provide flea control. Revolution is the best flea med that I have found yet. I like to be able to order online and not have to make a visit to the vet. Price is good.
By far the best solution
Written by
Mary Paddock
Mar 01, 2016
I have three cats in my population who are prone to ear mites. Two of them are hard-to-treat, borderline feral cats, which means that catching up to them on a daily basis to put drops in their ears is a massive headache (and almost impossible with one of them). Revolution is the only one-stop drop product on the market that resolves the problem with one treatment. It's also one of the few reasonably priced monthly products that still works on fleas.
Revolution Rocks
Written by
Rachaelbetty
Feb 27, 2016
This product not only kills the fleas but also is an effective product to get rid of those pesty earmites as well. Never had a cat have a negative reaction to it--unlike some other topical products I've used. As a rescue that not only brings in owner surrenders, but also cats from shelters, we need to treat the cats with the most effective flea and ear mite control product. Revolution has been our go to product for each and every cat we rescue--as well as some dogs that seem to find us!