Heartgard Plus Chewables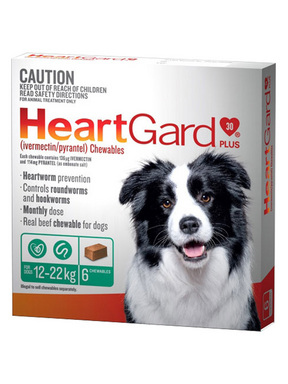 Heartgard Plus Chewables
Highly effective dewomer that eliminates the tissue stages of heartworm larvae and removes adult roundworms and hookworms from dogs.
Made with real beef and is a chewy treat for dogs.
Easy to administer.
GENERIC NOW AVAILABLE
SELECT THE GENERIC OPTION TO SAVE $$$
Style Number: MSD24-CONFIG
Product Detail: Heartgard Plus Chewables
Heartgard Plus Heartworm Treatment for Dogs
Heartgard Plus heartworm treatment eliminates the tissue stages of heartworm larvae (Dirofilaria immitis) and removes adult roundworms (Toxocara canis, Toxascaris leonina) and hookworms (Ancylostoma caninum, A. braziliense, Uncinaria stenocephala) from dogs.
Heartgard will control heartworm infections acquired in the previous 4 months provided that monthly treatment is continued for at least 12 consecutive months.
Dosage and Administration of Heartgard Plus
Give one Heartgard Plus chew each month, preferably on the same day or date. The Heartgard Plus cube may be offered by hand or added to the food. Dogs should be closely observed for several minutes following administration to make sure that the entire dose has been consumed.
Heartgard Plus Active Ingredients
Ivermectin & Pyrantel Embonate
How to Store Heartgard Plus
Store below 30 deg. C (room temperature). Do not freeze. Protect from light.
Heartgard Plus Manufacturer
Merial USA Pty Limited
---
---
Heartgard Plus Chewables
Ratings & Reviews
Based on
321
Review(s)
Most Recent Reviews
Same product as the Vet uses, just less $
Written by
ypease
Apr 05, 2021
I like the idea I can order the same Heartworm meds from here at a lower price. The product it's self is effective at controling Heartworms, per my vet.
Great Product, Great Price
Written by
ypease
Feb 18, 2021
The vet recommended this product for our new rescue. She is from Texas and there was no record re Heartworm testing. so the vet tested her and started her on HeartGard. She loves her HeartGard "treats". I have been buying it from Pet Shed since then. Pet Shed is the greatest! This product is the same as what's sold at the vet. No prescription, great service and shipping. I have been using Pet Shed for yrs now and have never been disappointed.
Long time user
Written by
Steve d
Jun 26, 2020
I have been using this product from this supplier for ten years. Always good service and my three dogs have never had heartworm or internal parasites
backwoodbill@rivah.net
Written by
backwoodsbill
Apr 28, 2019
I have been using generic heartgard for three seasons and it has served my three Akita kids very well they have been heart worm free thank you Pet Shed
Absolute Savings
Written by
Atlas
Apr 19, 2017
We may be new to Pet Shed but the first time we ordered this product back in 2016 gave us a new favorite Pet Store. Aside from their customer service who are very accommodating and lovely. Pet Shed made us realized that we can keep our pets from harm without spending a whole lot of money. Pet Shed is not just doing business but they're helping customer and our pets at the same time. We love you all!
Great product
Written by
Blake
Jun 17, 2016
I trust this product 100%. My wife and I started taking care of a stray dog that was heart worm positive and the vet told us we could do the risky treatment that could possibly kill our new dog or we could do a long term treatment (HeartGard). we have been giving HeartGard to our dog for about 11 months now and there has been a huge improvement. Our dog no longer is wheasing or out of breath and she has tones of energy now and wants to play ALL THE TIME!
No Heartworm here!
Written by
Lela Harnice
Jun 07, 2016
This Heargard medicine is so easy to administer and gives me peace of mind knowing my dog is protected. Super price and shipping!
Dogs love it!
Written by
wdhutch
Jun 06, 2016
I've been using a much more expensive medication from my vet, and my dogs had to be bribed to take it. It was a whole ordeal, and my littlest one always had an upset stomach for a day or two following. This, however, seems like a treat to them! No upset tummies and much easier for them to take! And did I mention it is less expensive?
Excellent - HeartGard for cheaper!
Written by
tm13
Jun 01, 2016
So grateful for PetShed! Heartgard is much cheaper than other pet websites and I don't need to pay for a heartworm test every time I get more. I have five dogs, and they all stay on heartworm preventative monthly, so saving money on a test AND the product is definitely helpful to me. The packaging is the same as the US, with of course the weight difference (pounds vs kilograms). Highly recommend this company.
good value product
Written by
Amanda
May 18, 2016
I have ordered Heartgard for my dog from Petshed for several years. It is the best price I have found. I have had no issues with the product and costumer service was very helpful when I had a question. Will continue to order from Petshed.