NexGard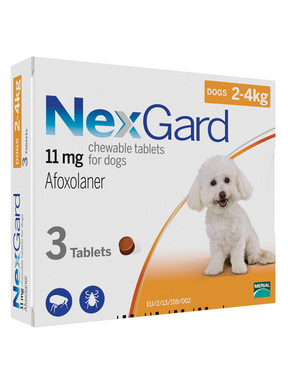 NexGard
From the makers of FRONTLINE Plus, the #1 choice of veterinarians
It is the first flea and tick killer in a beef-falavored chew
Tasty chewable approved to kill both fleas and ticks.
It kills adult fleas before they lay eggs.
NEXGARD is available in four sizes of beef-flavored soft chewables
Each chewable size is available in color-coded packages of 3 or 6 beef-flavored chewables.
Style Number: NEXGARD-CONFIG
Product Detail: NexGard
NexGard (afoxolaner) is FDA approved for veterinarian use, and demonstrated 100% effectiveness against adult fleas 24 hours post-infestation for 35 days. NEXGARD kills adult fleas and is indicated for the treatment and prevention of flea infestations (Ctenocephalides felis) , and the treatment and control of American Dog tick (Dermacentor variabilis) infestations in dogs and puppies 8 weeks of age and older, weighing 4 pounds of body weight or greater, for one month.

Warnings: Not for use in humans. Keep this and all drugs out of the reach of children. In case of accidental ingestion, contact a physician immediately.

Storage Information: Store at or below 30°C (86°F) with excursions permitted up to 40°C (104°F).

HUMAN WARNING: Not for use in humans. Keep this and all drugs out of the reach of children. In case of accidental ingestion, contact a physician immediately.

FRONTLINE VET LABS™A DIVISION OF MERIAL LIMITED.
---
---
NexGard
Ratings & Reviews
Based on
356
Review(s)
Most Recent Reviews
Great Product for new rescue -
Written by
ypease
Feb 18, 2021
I adopted a rescue from Texas back in September 2020. She came to us with very few medical records. After a visit to our vet, she suggested NexGard for Samantha. It was an excellent suggestion. Sam goes to Doggy Day Care 2-3, and the Dog Park 2-4 times a week to play, and has never come home with a flea on her. I sure we will have a wonderful Spring and Summer, flea and Tick free.BTW, Pet Shed has excellent prices! No prescription necessary, quick delivery to the States and it's the same product as the vet sells.
kcsapp@yahoo.com
Written by
KC
Jan 04, 2021
We like this product
Works well, too bad price went up
Written by
joelheck
Jul 13, 2020
I've been using this for several years and it works quite well. Not sure why it went from $116 to $146. Same item, more cost. kind of a bummer.
Nexgard
Written by
Sharon Jones
Jun 14, 2019
This stuff is amazing,,,i give to my dogs,,they love the taste,,,and that's it,,Fleas an Ticks are gone,,.I have not found a flea or tick on none of my dogs. I have 7 . I tried Nexgard last summer and it made a believer out of me,,,i am and will be a customer for years to come .Thank you Pet Shed.
EXCELLENT!!
Written by
kate
Feb 07, 2019
MY dog chewed himself raw & bloody for 11 years. Flea meds, steroids, different shampoos, antihistamines, many vet visits & nothing worked. He has never "had fleas" but apparently, was allergic to the one flea in my yard. Romeo has lived comfortably for 2 years now that I have him on Nexguard. A great product!!
Greatest Flea and Tick ever made!!!!!!!
Written by
bonolito57
Aug 20, 2018
It does takes a little time for it to go into the blood stream, But once it does, everything changes.it works so well, I have never seen our dogs scratch or chew on their skin since. I highly recommend Nexgard!!!! You will not waste your money on this product. The medicine is by far the best one out there for flea and tick. Our dogs love the taste of it to I just wish the price was a little lower.
Pet shed
Written by
Betty
May 03, 2018
Great company to do business with . Always courteous when talking with them .always eager to help with any problem.
Best all around control.
Written by
Charles
Mar 01, 2018
I have a kennel with 14 dogs and this is the only time we have ever been completely flea free. We are in the country and have problems with tick, no more, Nexgard took care of them. What amazes me is the fact that it also kills mange mites. We had a dog infected with the red mange and the vet prescribed one tablet followed up in 2 weeks with another and then monthly. It took 3 weeks and her hairs was growing back and no relapsing. This mange is passed from mother to babies when infected but, if she happens to accidentally breed, the mites are no longer there to be passed on. I still do not recommend breeding a dog that has had the red mange but it's good to know it's no longer a death sentence for the dog. Super great product.
Nexgard
Written by
Javk
Jul 15, 2017
I received my order of Nexgard on Wednesday and Thursday I started to see dead ticks on the floor. examination of my dogs shows no more live ticks. That Nexgard really works fast. Thanks for the speedy delivery.
More than flea control
Written by
Charles
May 05, 2017
My dog was diagnosed with red mange and the vet put her on Nexgard. One tablet to start, one more after two weeks, and then monthly. Within 45 days all her hair came back and the skin scrapping s were clear. I use it every month now. I have 15 Dobermans and my kennel is finally clear of fleas.