NexGard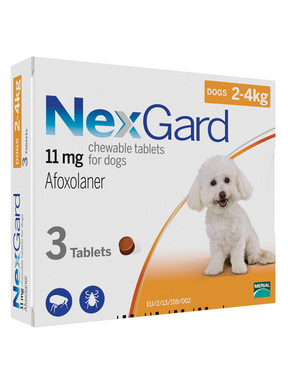 NexGard
From the makers of FRONTLINE Plus, the #1 choice of veterinarians
It is the first flea and tick killer in a beef-falavored chew
Tasty chewable approved to kill both fleas and ticks.
It kills adult fleas before they lay eggs.
NEXGARD is available in four sizes of beef-flavored soft chewables
Each chewable size is available in color-coded packages of 3 or 6 beef-flavored chewables.
Style Number: NEXGARD-CONFIG
Product Detail: NexGard
NexGard (afoxolaner) is FDA approved for veterinarian use, and demonstrated 100% effectiveness against adult fleas 24 hours post-infestation for 35 days. NEXGARD kills adult fleas and is indicated for the treatment and prevention of flea infestations (Ctenocephalides felis) , and the treatment and control of American Dog tick (Dermacentor variabilis) infestations in dogs and puppies 8 weeks of age and older, weighing 4 pounds of body weight or greater, for one month.

Warnings: Not for use in humans. Keep this and all drugs out of the reach of children. In case of accidental ingestion, contact a physician immediately.

Storage Information: Store at or below 30°C (86°F) with excursions permitted up to 40°C (104°F).

HUMAN WARNING: Not for use in humans. Keep this and all drugs out of the reach of children. In case of accidental ingestion, contact a physician immediately.

FRONTLINE VET LABS™A DIVISION OF MERIAL LIMITED.
---
---
NexGard
Ratings & Reviews
Based on
356
Review(s)
Most Recent Reviews
First time buyer
Written by
Dave9969
Oct 04, 2014
This was my first purchase they were quick to process my order and credit card but for some reason it took them days to ship the product and it came all the way from Singapore to Florida, USA? the website does not mention that you are ordering from ASIA, and that the packaging will not be the same as what you buy domestically I have to admit I am a bit leery of this as I don't want to risk my pets health to possible I'm not saying its going to happen but what is my recourse if it does happen? I guess if they had at least told me up front, I would feel different about this.
Finally!
Written by
Sunshine Girl
Sep 17, 2014
I have a Chesapeake Bay Retriever that has skin & heat allergies that in the summer he scratches and looses hair. We have kept the fleas and ticks at bay for the most part and spent time & money trying to control his allergies. When NexGard became available I gave it to him. He has been on NexGard for 3 monthes and not only does it take care of fleas & ticks, but the itching and scratching AND hair loss are almost gone! He is a MUCH happier dog in many ways, thanks to NexGard!
good product
Written by
Sierra
Aug 21, 2014
This product works well, better than any flea and ticks colors It takes 4-5 days for fleas to disappear.
Working Great
Written by
Sandra
Aug 19, 2014
I decided on this pill because it not only takes care of fleas but ticks also. I live in the Southeast US and the ticks have been awful again this year. I have added another rescue and the ticks were so bad on him that the children next door though he had spiders in his ears! After just a few days I noticed a huge difference. The dogs love the tablet and chew it like a snack. I haven't noticed any side affects and I am thrilled that the furry babies are happy and healthy after someone else threw them away. We now have a third one that showed up and he got a dose also. No ticks or fleas in our homes! Oh, and Pet Shed has been in my family for over ten years at least!
Great stuff
Written by
Anna
Jul 23, 2014
I have used this for 3 months on both of my little ones and it works so much better. They don't itch and starch like they do with the topical stuff. Would high recommend.
Tick meds
Written by
Shelly
Jun 15, 2014
I've used this product for 2 months now, and our place is unfortunately crawling with these ugly things. The ticks do get on my dog and bite, but then they die!!! For the Am. dog tick, this means no more new ticks, because they can only reproduce if they are engorged on a dog. I'm happy with this product.