NexGard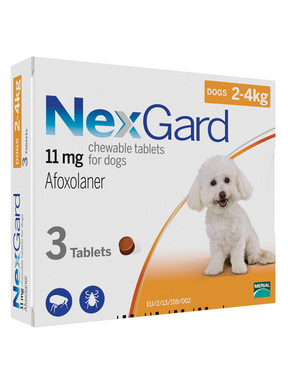 NexGard
From the makers of FRONTLINE Plus, the #1 choice of veterinarians
It is the first flea and tick killer in a beef-falavored chew
Tasty chewable approved to kill both fleas and ticks.
It kills adult fleas before they lay eggs.
NEXGARD is available in four sizes of beef-flavored soft chewables
Each chewable size is available in color-coded packages of 3 or 6 beef-flavored chewables.
Style Number: NEXGARD-CONFIG
Product Detail: NexGard
NexGard (afoxolaner) is FDA approved for veterinarian use, and demonstrated 100% effectiveness against adult fleas 24 hours post-infestation for 35 days. NEXGARD kills adult fleas and is indicated for the treatment and prevention of flea infestations (Ctenocephalides felis) , and the treatment and control of American Dog tick (Dermacentor variabilis) infestations in dogs and puppies 8 weeks of age and older, weighing 4 pounds of body weight or greater, for one month.

Warnings: Not for use in humans. Keep this and all drugs out of the reach of children. In case of accidental ingestion, contact a physician immediately.

Storage Information: Store at or below 30°C (86°F) with excursions permitted up to 40°C (104°F).

HUMAN WARNING: Not for use in humans. Keep this and all drugs out of the reach of children. In case of accidental ingestion, contact a physician immediately.

FRONTLINE VET LABS™A DIVISION OF MERIAL LIMITED.
---
---
NexGard
Ratings & Reviews
Based on
356
Review(s)
Most Recent Reviews
Life Saver
Written by
Atlas
Apr 19, 2017
I never knew that this product can make such a miracle. My dog appeared to have lots of fleas and ticks that made him too skinny and looks so sick these parasites are making his life so difficult where he can't enjoy playing anymore until we used Nexgard and we were surprised of it's immediate action that made us not just happy but our buddy as well. Thank you Pet Shed for the giving us the opportunity to experience great service and products from you. You were all simply amazing!
Wonderful
Written by
Erika Shanks
Dec 05, 2016
I like seresto and advantage products but they didn't work this year; so I tried nexgard..I was amazed. Within 24 hrs fleas were gone. I will continue to use this. Price was reasonable. Excellent product.
NexGard
Written by
Wanda
Nov 04, 2016
Works super for my chihuahua mix, and Alaskan Malamute.
best ever nexgard!
Written by
Carol
Oct 31, 2016
i so love nexgard. the dogs are very eager to have one.
NEXGARD
Written by
Zac
Oct 20, 2016
I have used other solutions for fleas. Some topical treatemnts, some chews and tablets, but I find nexgard the greatest. Effective and convenient solution to fleas and ticks.
GREAT!
Written by
Sam
Oct 14, 2016
With nexgard, my dogs are 100% free from fleas. I so love this one. Will definitely buy another pack for prevention!
THE BEST
Written by
Alexis
Oct 04, 2016
I've tried a lot of flea control tablets but this one is the best. The dogs chew it easily. No spot on treatment so no hassle at all. Easy way to prevent ticks and fleas on my dogs.
Best choice
Written by
Kylie
Oct 03, 2016
I've been adopting dogs for 10 years now and I always make sure that what I give to y dogs are the best. With Nexgard, I'm sure that ever I bring my dogs to the park always, they will go home flea free. That's the power of Nexgard. Bonus part is, it's easy to apply to dogs since they love these chews.
Flea control
Written by
KAsey
Sep 23, 2016
Fleas are NO NO WITH NEXGARD. I know my dogs will never have any becaus nexgard prevents effectively fleas and ticks
NexGard chewables
Written by
Garco
Sep 22, 2016
Easy to chew for my lil dog. And very great to use.