Revolution for Cats & Dogs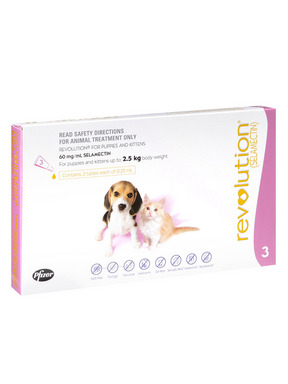 Revolution for Cats & Dogs
Kills adult fleas, flea eggs, and flea larvae in the environment. Treats, controls, and prevents flea infestations. Controls Flea Allergy Dermatitis (FAD).
For the prevention of heartworm disease (with monthly administration) caused by Dirofilaria Immitis.
For the treatment of ear mites (Otodectes Cynotis), adult roundworms (Toxocara Cati), adult intestinal hookworms (Ancylostoma Tubaeforme), and biting lice infestations caused by Felicola Subrostratus.
Revolution for cats doesn't come with Canex but is already formulated to fight against roundworms and hookworms in cats.
INCLUDES FREE CANEX WITH REVOLUTION FOR DOGS
Style Number: PFI02-CONFIG
Product Detail: Revolution for Cats & Dogs
Revolution for Cats & Dogs
Revolution is a safe and simple way to protect your pet from a range of common parasites. It prevents heartworm disease while treating and controlling fleas (including flea eggs and larvae) and ear mites in both cats and dogs, hookworms, and roundworms in cats and sarcoptes mites in dogs. This effective medication is applied to the skin of your pet once a month.
How Revolution for Cats & Dogs works
After applying, Revolution is quickly absorbed into your pet's bloodstream, skin, and hair, killing fleas, heartworm, and other parasites that can harm your pet. Revolution will then protect your pet for an entire month. As Revolution moves into your pet's skin and hair, it goes straight to killing fleas, flea larvae, flea eggs, and other external parasites.
What is the active ingredient of Revolution for Cats & Dogs?
Active ingredient:
What is the proper administration of Revolution for Cats & Dogs?
Revolution Flea Control is a once-a-month topical application for dogs and cats. Application is quick and easy and the product should only be applied to a dry animal. The product is waterproof, therefore, normal bathing, swimming, etc. can continue after two hours.
The correct tube size should be selected for each animal and individual tubes should not be shared between several animals. The cap on the tube should be pushed downwards onto the tube until a "click" is heard and then the cap should be removed. The hair at the base of the neck should be parted to skin level and the entire contents of the tube squeezed onto this area. Do not rub in the liquid.
The concentration of the active ingredient in the Revolution for Dog and Revolution for Cat products is different so the correct package should be used for the correct breed as noted on the package label.
The doses and pack sizes are as follows:
Revolution for Cats
Puppies and kittens up to 2.5kg - pink pack
Cats up to 7.5kg - blue pack
Revolution for Dogs
Puppies and kittens up to 2.5kg - pink pack
Very small dogs 2.6-5kg - purple pack
Small dogs 5-10kg - brown pack
Medium dogs 10-20kg - red pack
Large dogs 20-40kg - teal pack
For dogs larger than 40kg - use the appropriate combination of sizes.
What are the precautions when using Revolution for Cats & Dogs?
Prior to the administration of Revolution, dogs should be tested for existing heartworm infections. At the discretion of the veterinarian, infected dogs should be treated to remove adult heartworms. Revolution is not effective against adult D. immitis and, while the number of circulating microfilariae may decrease following treatment, Revolution is not effective for microfilariae clearance.
Hypersensitivity reactions have not been observed in dogs with patent heartworm infections administered three times the recommended dose of Revolution. Higher doses were not tested.
---
---
Revolution for Cats & Dogs
Ratings & Reviews
Based on
821
Review(s)
Most Recent Reviews
Revolution review
Written by
Cheryl
Jun 10, 2016
This is by far the BEST flea/tick med on the market surpassing Frontline and all others. Reason being is the tubes are a lot smaller (less medicine) and the medicine doesn't affect the cats the way the rest do. As soon as I applied others, they squint their eyes and run from me. They crinkle their backs and were miserable for 24hrs. Not with Revolution!! They never react to the application! AND it kills ear mites & worms in addition to fleas & ticks!! After applying to one of my cats, his appetite decreased significantly! Before he'd eat all his food and the 2 other cats food. Quite obviously he had worms which Revolution took care of. I won't buy any other flea med again. SO glad Pet Shed has this product available!! THANKS PET SHED!!!!!!!!!!!!1
Reliable and Easy!
Written by
Candace
Jun 10, 2016
I've used Revolution for our cats and dogs for years. We had a terrible flea problem one year and our vet recommended Revolution because it was effective and a convenient way to make sure our animals got everything they needed in one swoop. We have had no flea problems at all and while our dogs may pick up a tick from time-to-time, we have had no big issues at all. Also, our animals show no ill effects from this product.
good product
Written by
drouinjm
Jun 08, 2016
It does exactly as it states
Loyal User
Written by
Don P
Jun 07, 2016
Using for years. Started with the vets first dose. No problems ever!!!!
Can't say this is entirely effective :(
Written by
Ruth
Jun 06, 2016
I live in Florida and have been using Revolution for my adult cat that is primarily and outside cat. Been using it on her for years but it seems that during the summer this does practically nothing for my sweet kitty. I make sure that it doesn't soak into her fur as much as possible and keep it on the skin on the back of her neck and I use the entire tube. I will put it on her once a month and I always see fleas on her during grooming. I need to find something better because this is not cutting it. It seems many people are fans of Revolution based on these ratings which is somewhat discouraging for me since I am on a hunt for something that works and I know this does not for my fur baby.
Best prices....used this for years
Written by
Sharon H
Jun 03, 2016
This is the most recommended flea control for cats. I have used this for over 10 years and Pet Shed consistently has the best prices.
Revolution for my Cat
Written by
Arlene
Jun 01, 2016
My cat is the hardest pet I have to use any flea control on. I tried a lot of other products including a pill that the vet's office has for cats, and she can't hold that down and I don't want to make my cat sick, to control fleas. The first time I used revolution for cats was purchasing it from the vet and it was much more expensive. I like it because it is easy to use and it works great. I put it on her and in a couple of hours she was no longer scratching herself. I'm very pleased with Pet Shed and this product. I wish the shipping was faster, but 10 days it took, so next time I will order, before I run out.
Effective Product, Excellent Customer Service, Best Price
Written by
Susan
May 27, 2016
I have used Revolution for Cats on my two cats for 13 months. Revolution was recommended by my vet. I order from PetShed because they have the best price and the convenience of ordering online. Delivery is prompt. The product works as adverised. It is very easy to apply. Neither of my cats has had any adverse reaction. As long as PetShed is in business and I have cats, PetShed will be my go to source for Revolution!
original product
Written by
julie
May 21, 2016
ordered revolution for cats ..came in 11 days no problems at all ..administered to my 3 cats and it worked great ...very happy with this company.. would defiantly shop here again...
really works
Written by
Cassandra
May 19, 2016
This is the only product that actually works on the fleas every year quickly.