Revolution for Cats & Dogs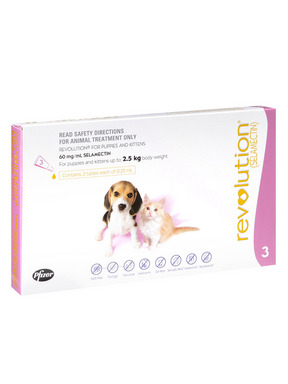 Revolution for Cats & Dogs
Kills adult fleas, flea eggs, and flea larvae in the environment. Treats, controls, and prevents flea infestations. Controls Flea Allergy Dermatitis (FAD).
For the prevention of heartworm disease (with monthly administration) caused by Dirofilaria Immitis.
For the treatment of ear mites (Otodectes Cynotis), adult roundworms (Toxocara Cati), adult intestinal hookworms (Ancylostoma Tubaeforme), and biting lice infestations caused by Felicola Subrostratus.
Revolution for cats doesn't come with Canex but is already formulated to fight against roundworms and hookworms in cats.
INCLUDES FREE CANEX WITH REVOLUTION FOR DOGS
Style Number: PFI02-CONFIG
Product Detail: Revolution for Cats & Dogs
Revolution for Cats & Dogs
Revolution is a safe and simple way to protect your pet from a range of common parasites. It prevents heartworm disease while treating and controlling fleas (including flea eggs and larvae) and ear mites in both cats and dogs, hookworms, and roundworms in cats and sarcoptes mites in dogs. This effective medication is applied to the skin of your pet once a month.
How Revolution for Cats & Dogs works
After applying, Revolution is quickly absorbed into your pet's bloodstream, skin, and hair, killing fleas, heartworm, and other parasites that can harm your pet. Revolution will then protect your pet for an entire month. As Revolution moves into your pet's skin and hair, it goes straight to killing fleas, flea larvae, flea eggs, and other external parasites.
What is the active ingredient of Revolution for Cats & Dogs?
Active ingredient:
What is the proper administration of Revolution for Cats & Dogs?
Revolution Flea Control is a once-a-month topical application for dogs and cats. Application is quick and easy and the product should only be applied to a dry animal. The product is waterproof, therefore, normal bathing, swimming, etc. can continue after two hours.
The correct tube size should be selected for each animal and individual tubes should not be shared between several animals. The cap on the tube should be pushed downwards onto the tube until a "click" is heard and then the cap should be removed. The hair at the base of the neck should be parted to skin level and the entire contents of the tube squeezed onto this area. Do not rub in the liquid.
The concentration of the active ingredient in the Revolution for Dog and Revolution for Cat products is different so the correct package should be used for the correct breed as noted on the package label.
The doses and pack sizes are as follows:
Revolution for Cats
Puppies and kittens up to 2.5kg - pink pack
Cats up to 7.5kg - blue pack
Revolution for Dogs
Puppies and kittens up to 2.5kg - pink pack
Very small dogs 2.6-5kg - purple pack
Small dogs 5-10kg - brown pack
Medium dogs 10-20kg - red pack
Large dogs 20-40kg - teal pack
For dogs larger than 40kg - use the appropriate combination of sizes.
What are the precautions when using Revolution for Cats & Dogs?
Prior to the administration of Revolution, dogs should be tested for existing heartworm infections. At the discretion of the veterinarian, infected dogs should be treated to remove adult heartworms. Revolution is not effective against adult D. immitis and, while the number of circulating microfilariae may decrease following treatment, Revolution is not effective for microfilariae clearance.
Hypersensitivity reactions have not been observed in dogs with patent heartworm infections administered three times the recommended dose of Revolution. Higher doses were not tested.
---
---
Revolution for Cats & Dogs
Ratings & Reviews
Based on
821
Review(s)
Most Recent Reviews
Great Stuff
Written by
Tracie
Feb 27, 2016
It's the only flea med that I can buy the large dog one and split up safely amoungst the kitties. It helps me soo much with my rescue work for my community. It allows me to protect my home as well as the little sweeties I bring into my home until I can find them the forever families they deserve.
one med does it all
Written by
Dorothy
Feb 24, 2016
My vet recommended Revolution and my cat has had none of the illnesses or infestations covered by this medication. He does not like it and I have to firmly hold him to apply the gel correctly. This is the only downside to this once monthly protectant. It is expensive in the US. I order from Pet Shed to save lots of money. It is in my mailbox within 2 weeks.
Good product but beware
Written by
Sue
Feb 10, 2016
Revolution and Stronghold are not identical as claimed. Revolution for dogs and cats up to 15 lbs.contains 60mg of Selamectin, Stronghold contains less. I think Stronghold contains 45 mg of Selamectin, but I don't have the box anymore so I'm not sure if I'm remembering the amount accurately.
Excellent Product!
Written by
VetteX
Feb 05, 2016
I have been using Revolution for about 8 years on my 7 +/- cats and it is the very best. I especially appreciate the heartworm and ear mite prevention. A truly great product.
Great Product
Written by
bonnibear
Jan 19, 2016
I have used this product on two different small dogs, and it works exceedingly well. Especially nice that it covers both fleas and heartworm in one dose so you don't need to buy multiple products.
Great product
Written by
Winklerc
Dec 31, 2015
We have had a hard time with fleas this year. Wanted to try a product with both heart and fleas. So far this one has worked well. We have four rescue dogs, been using Pet Shed for quite a few years. Very happy with all their products.
Killed most fleas, but not all by the next day
Written by
Lareese
Dec 25, 2015
I got my 2 month old toy poodle a few days ago, but the night that I got him, my boyfriend and I noticed a couple fleas around his head. This scared me because I have another 12 year old pomshi that has never had any fleas in her entire life. I brought my toy poodle puppy to the vet the very next morning and the vet found the fleas on his head and around his butt area. The vet applied Resolution behind his neck and he said it was safe to give my puppy a bath after 24 hours. That night, we noticed a few dead fleas falling off his body and onto the ground. I also started vacuuming our entire condo (couches, bed, carpets) and spraying with Siphotrol to be safe. The next day, I brushed his body with a flea comb to get rid of the dead fleas and also the flea dirt. I also found around 3-4 live fleas while combing through his body, which I would kill right away. Once I saw no more flea dirt or fleas coming off his body, I washed his body with Dawn dish soap and let it lather for 10 minutes, rinsed it off then used a puppy shampoo (Burtsbee's puppy 2 in1 shampoo and conditioner) and let that lather for 10 minutes. After rinsing, I blow dried him and only found 1 flea left on his body, but it was dead. I combed through his body again, no fleas or flea dirt was found. Overall, I found that this product worked and killed most of the fleas by the next day and I have not found a flea since! I am hoping that they do not come back after this and I will going back to the vet for another reapplication of Resolution when the month is up.
Great Product!
Written by
Susan MacVicar
Nov 18, 2015
I switched to Revolution about four years ago. It was the best move I have made in flea and tick prevention. It is a one step process as it also prevents heartworms and intestinal worms. You can't go wrong.
I love PET SHED and REVOLUTION
Written by
Kdennis14
Nov 14, 2015
I have been using Revolution for about 15 or 20 years. I have flea and tick free animals. I have tried different products and they are awful!! This product does not effect my babies, and I know that they are protected. It covers ear mites as well. You will not regret using this product.
Great Product!
Written by
Donna
Nov 13, 2015
Have used Revolution on my two indoor/outdoor feline friends for several years. Works great for flea control and they get a clean bill of health from their vet.