Revolution for Cats & Dogs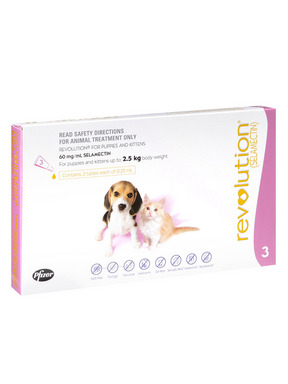 Revolution for Cats & Dogs
Kills adult fleas, flea eggs, and flea larvae in the environment. Treats, controls, and prevents flea infestations. Controls Flea Allergy Dermatitis (FAD).
For the prevention of heartworm disease (with monthly administration) caused by Dirofilaria Immitis.
For the treatment of ear mites (Otodectes Cynotis), adult roundworms (Toxocara Cati), adult intestinal hookworms (Ancylostoma Tubaeforme), and biting lice infestations caused by Felicola Subrostratus.
Revolution for cats doesn't come with Canex but is already formulated to fight against roundworms and hookworms in cats.
INCLUDES FREE CANEX WITH REVOLUTION FOR DOGS
Style Number: PFI02-CONFIG
Product Detail: Revolution for Cats & Dogs
Revolution for Cats & Dogs
Revolution is a safe and simple way to protect your pet from a range of common parasites. It prevents heartworm disease while treating and controlling fleas (including flea eggs and larvae) and ear mites in both cats and dogs, hookworms, and roundworms in cats and sarcoptes mites in dogs. This effective medication is applied to the skin of your pet once a month.
How Revolution for Cats & Dogs works
After applying, Revolution is quickly absorbed into your pet's bloodstream, skin, and hair, killing fleas, heartworm, and other parasites that can harm your pet. Revolution will then protect your pet for an entire month. As Revolution moves into your pet's skin and hair, it goes straight to killing fleas, flea larvae, flea eggs, and other external parasites.
What is the active ingredient of Revolution for Cats & Dogs?
Active ingredient:
What is the proper administration of Revolution for Cats & Dogs?
Revolution Flea Control is a once-a-month topical application for dogs and cats. Application is quick and easy and the product should only be applied to a dry animal. The product is waterproof, therefore, normal bathing, swimming, etc. can continue after two hours.
The correct tube size should be selected for each animal and individual tubes should not be shared between several animals. The cap on the tube should be pushed downwards onto the tube until a "click" is heard and then the cap should be removed. The hair at the base of the neck should be parted to skin level and the entire contents of the tube squeezed onto this area. Do not rub in the liquid.
The concentration of the active ingredient in the Revolution for Dog and Revolution for Cat products is different so the correct package should be used for the correct breed as noted on the package label.
The doses and pack sizes are as follows:
Revolution for Cats
Puppies and kittens up to 2.5kg - pink pack
Cats up to 7.5kg - blue pack
Revolution for Dogs
Puppies and kittens up to 2.5kg - pink pack
Very small dogs 2.6-5kg - purple pack
Small dogs 5-10kg - brown pack
Medium dogs 10-20kg - red pack
Large dogs 20-40kg - teal pack
For dogs larger than 40kg - use the appropriate combination of sizes.
What are the precautions when using Revolution for Cats & Dogs?
Prior to the administration of Revolution, dogs should be tested for existing heartworm infections. At the discretion of the veterinarian, infected dogs should be treated to remove adult heartworms. Revolution is not effective against adult D. immitis and, while the number of circulating microfilariae may decrease following treatment, Revolution is not effective for microfilariae clearance.
Hypersensitivity reactions have not been observed in dogs with patent heartworm infections administered three times the recommended dose of Revolution. Higher doses were not tested.
---
---
Revolution for Cats & Dogs
Ratings & Reviews
Based on
821
Review(s)
Most Recent Reviews
Revolution for cats and dogs
Written by
phyllis randall
Nov 11, 2015
an excellent product, it really works...my cats and dogs are flea free, and flea allergy dermatitis is healing....the package arrived intact, and promptly, and the price is very appealing..Allow for the international fee, so order lots at one time..
Flea meds
Written by
Cat Lady
Nov 06, 2015
I've tried a few of the most popular brands over the years and Revolution is by far the very best. It works like a charm and it's safer than most. After only one app It's done it's job. Pet Shed is also a good provider as well. They're usually the best price and It gets here quickly. I highly recommend both.
rating Revolution
Written by
Phyllis Randall
Nov 06, 2015
an excellent product, does everything the ads say it will....no strong odor..easy to apply and my pets have NO fleas...I especially like it because it has other benefits..kills mites, and flea eggs which is a big plus.....thank you for a great product.
Best Product
Written by
nhuqph
Nov 05, 2015
I have been using this product for my dogs since they were a puppies, it worked well and I would not change to any other products.
Only product that worked on our cat's dermatitis!
Written by
Tommi
Nov 05, 2015
After wasting time and money with "other" *cough* less superior flea treatments that did nothing for our poor cat's fleas and nasty case of dermatitis, we finally found a product that worked! PedShed.com provides very fast delivery and is friendly. I will keep ordering Revolution here.
Great product!
Written by
merry
Nov 03, 2015
Great product and delivery service. Fast delivery service.
Revolution for Dogs
Written by
KAN
Nov 02, 2015
This does a good job of protecting my two dogs from fleas and ticks. I live in an area with a lot of ticks, so I still find one attached to one of the dogs every few months, but Revolution does a good job protecting them overall. This is the product recommended by my vet, but it is much cheaper here on Pet Shed. It is easy to apply, dries quickly, and does not cause adverse effects on my pets.
Good stuff
Written by
Mike
Oct 29, 2015
I have used this as the flea, tic and heartwood meds for my dog since he was puppy. The drops are easy and I just give them to him while he's eating so its easier to apply. He's never had a problem with fleas or anything like that so I am pleased with my purchase.
revolutoions
Written by
Hoppyone
Oct 28, 2015
Works very well no complaints
ohhhmeohhhmy@yahoo.com
Written by
Tammy
Oct 26, 2015
Always a pleasure! Thank you! Affordable and works great!!