Revolution for Cats & Dogs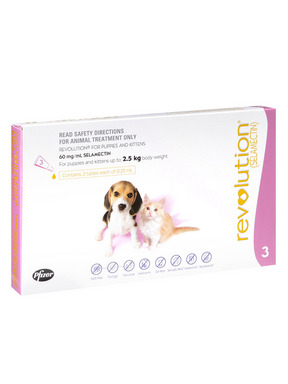 Revolution for Cats & Dogs
Kills adult fleas, flea eggs, and flea larvae in the environment. Treats, controls, and prevents flea infestations. Controls Flea Allergy Dermatitis (FAD).
For the prevention of heartworm disease (with monthly administration) caused by Dirofilaria Immitis.
For the treatment of ear mites (Otodectes Cynotis), adult roundworms (Toxocara Cati), adult intestinal hookworms (Ancylostoma Tubaeforme), and biting lice infestations caused by Felicola Subrostratus.
Revolution for cats doesn't come with Canex but is already formulated to fight against roundworms and hookworms in cats.
INCLUDES FREE CANEX WITH REVOLUTION FOR DOGS
Style Number: PFI02-CONFIG
Product Detail: Revolution for Cats & Dogs
Revolution for Cats & Dogs
Revolution is a safe and simple way to protect your pet from a range of common parasites. It prevents heartworm disease while treating and controlling fleas (including flea eggs and larvae) and ear mites in both cats and dogs, hookworms, and roundworms in cats and sarcoptes mites in dogs. This effective medication is applied to the skin of your pet once a month.
How Revolution for Cats & Dogs works
After applying, Revolution is quickly absorbed into your pet's bloodstream, skin, and hair, killing fleas, heartworm, and other parasites that can harm your pet. Revolution will then protect your pet for an entire month. As Revolution moves into your pet's skin and hair, it goes straight to killing fleas, flea larvae, flea eggs, and other external parasites.
What is the active ingredient of Revolution for Cats & Dogs?
Active ingredient:
What is the proper administration of Revolution for Cats & Dogs?
Revolution Flea Control is a once-a-month topical application for dogs and cats. Application is quick and easy and the product should only be applied to a dry animal. The product is waterproof, therefore, normal bathing, swimming, etc. can continue after two hours.
The correct tube size should be selected for each animal and individual tubes should not be shared between several animals. The cap on the tube should be pushed downwards onto the tube until a "click" is heard and then the cap should be removed. The hair at the base of the neck should be parted to skin level and the entire contents of the tube squeezed onto this area. Do not rub in the liquid.
The concentration of the active ingredient in the Revolution for Dog and Revolution for Cat products is different so the correct package should be used for the correct breed as noted on the package label.
The doses and pack sizes are as follows:
Revolution for Cats
Puppies and kittens up to 2.5kg - pink pack
Cats up to 7.5kg - blue pack
Revolution for Dogs
Puppies and kittens up to 2.5kg - pink pack
Very small dogs 2.6-5kg - purple pack
Small dogs 5-10kg - brown pack
Medium dogs 10-20kg - red pack
Large dogs 20-40kg - teal pack
For dogs larger than 40kg - use the appropriate combination of sizes.
What are the precautions when using Revolution for Cats & Dogs?
Prior to the administration of Revolution, dogs should be tested for existing heartworm infections. At the discretion of the veterinarian, infected dogs should be treated to remove adult heartworms. Revolution is not effective against adult D. immitis and, while the number of circulating microfilariae may decrease following treatment, Revolution is not effective for microfilariae clearance.
Hypersensitivity reactions have not been observed in dogs with patent heartworm infections administered three times the recommended dose of Revolution. Higher doses were not tested.
---
---
Revolution for Cats & Dogs
Ratings & Reviews
Based on
821
Review(s)
Most Recent Reviews
mary.shobe@yahoo.com
Written by
BusyDove
Sep 19, 2016
Our cat, Sally, enjoys the outdoors but we hate fleas and the health problems associated with them as well as mosquitoes and ear mites. Sally has not had any of these problems while using Revolution. It is absolutely the best! Pet Shed always provides timely shipment and the order arrives about 10 days after ordering ...all the way to the U.S.
Excellent Product!
Written by
Nadine
Sep 09, 2016
Could not ask for a better product to take care of heartworm prevention AND flea prevention! Added bonus is that I don't have to go to the trouble of getting it from my vet at twice the cost!
My go to place for all things pets
Written by
Claudia McDermott
Aug 09, 2016
I'm a long time Pet Shed customer. I've been purchasing my Flea and Tick medication from Pet Shed, and other pet meds for 6-7 years now. They have the best prices of any place around, and I've checked all of them. Shipping is very quick. I'm completely satisfied with this company, they give EXCELLENT customer service. I wouldn't go anywhere else.
Revolution and Stronghold not the same!!!!!!!
Written by
Carey
Jul 16, 2016
Long time user of Revolution here. I purchased Stronghold for my last purchase based on the information on Petshed stating that the names were different but both were Selemectin and otherwise identical. But the dosing of the medication is different and Stronghold is less potent. It did not provide an adequate level of flea control for our cat and had to be applied every 3 weeks instead of every 4, which negated the $ savings. Stick with the Revolution!!
Great flea protection
Written by
Kay
Jul 15, 2016
I use this for both my cats and dog. They previously had gotten fleas using Advantage II but with this, they haven't gotten fleas. Hopefully that'll continue to be the case as we move towards summer and warmer weather!
Why go anywhere else?
Written by
Mary
Jul 07, 2016
Revolution is a product that really works. PetShed has the lowest prices. Why go anywhere else for the protection from fleas and ticks that your pet really needs?
Excellent product to control parasites
Written by
LuannKeller
Jun 25, 2016
Great product, safe, easy to use, effective for fleas and ear mites
best fles med I've used
Written by
Rebecca
Jun 24, 2016
Revolution is hands down the best flea med I've ever used. I've been using it for the past 9 years on my cats and it is amazing! Kills fleas, flea eggs, ear mites, round worms, hook worms and even the fly larvae if your cat gets fly strike. The fleas have not developed resistance to it like they have with all the other flea meds I used to use. Thank you for this great product!
Revolution for Cats
Written by
Dorothy
Jun 21, 2016
Revolution for Cats takes care of ear mites along with fleas and worms. The price is good and the service is excellent. I got immediate response when I had a question about the product I had purchased.
It works - but depends on the area
Written by
Big Roy
Jun 18, 2016
Revolution works as advertised. Our cats are indoor-outdoor and we live in Texas along the coast. Revolution works. Period. HOWEVER, in heavy flea years it seems like it might not be working to some people. Fleas dont die immediately and can sometimes linger for 24-36 hours. So if your cat lives somewhere like Florida where fleas are off the chart, you will still see the new fleas that recently jumped on but haven't died yet ... but you wont ever find fat pregnant female fleas. If you leave the cat indoors you will see the flea problem go away.