Time for Doglympics!
It's time again for all of us armchair sportsmen and sportswomen to revel in the amazing feats of the elite sports stars of our age as the 2012 London Olympics is played over and over again on our big screens!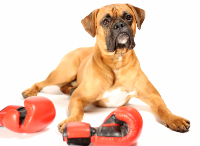 Who knows, snuggled up on your lap as you watch the daring leaps, dashes and jumps of our human sports star may be the next amazing dog superstar!
Although your pooch may seem more snuggler than superstar, you may be amazed by what these little bundles of fluff can achieve.
Imagine the cheers, the adoration, the media spectacle as your dog achieves the seemingly impossible perhaps a high jump specialist, or a 100m speedster, or maybe even the next swimming sensation. Seem unlikely? Well here's just a few amazing dog sporting feats from the Guinness Book of Records.
Imagine a dog clearing a jump of 172.7cm! Cinderella May (a Holly Grey) from the USA achieved that very feat in 2006.
Tillman (an English Bulldog) might not leave his human counterparts shivering in their boots, but he certainly took off at great speed to cover 100m in 19.678 seconds on a skateboard in 2009.
And what about Augie the Golden Retriever, a master in the making at tennis. Augie gathered and held 5 tennis balls in the mouth in 2003 (perhaps a great ball-boy in the making!).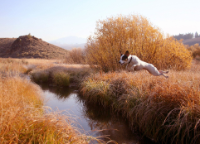 Dogs are naturally agile, intelligent, active, fun-loving creatures that benefit enormously from sport and activities. At this time when the best of human sporting achievements are being celebrated, why not test out your gorgeous pooch to see what potential lies beneath all that love and fur?
Sporting activities for dogs range from simple and fun right through to serious world-wide competitions. Any dog can compete in a dog sporting activity, though some breeds are recognised more for their sporting abilities than others. But don't be fooled, any dog given the correct dog training and nutrition can be a champion.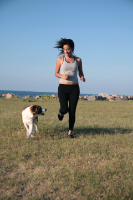 Breeds designated by kennel clubs as sporting dogs are generally those breeds which were bred for their innate hunting abilities both in the water and on land. They are active, intelligent and alert dogs with good temperaments. These generally include a range of retrievers, spaniels and setters, among others. Their ability to track, locate and retrieve also makes them suitable for use in policing, armed services and the like.
Obviously dogs won't be able to participate in many human sports. However there are many sports designed specifically for dogs, or altered to allow dogs to participate and compete.
Any owner who has watched a canine flyball or disc catching competition will be amazed at the speed and accuracy of these dogs. Fit, active dogs running, jumping and catching alone or as part of a team is an incredible sight to behold.
Flyball is the ultimate team sport for dogs and breed need not necessarily be a consideration. Flyball involves 2 teams of 4 dogs each, racing side by side over hurdles to release a flyball pedal, catch the ball which it releases and then race back over the hurdles to the finish line where the next eager participant is awaiting their turn. Flyball is an official canine sport in Australia, even having its own association, The Australian Flyball Association. The dogs and spectators all seem to truly enjoy this amazing sport. Is your dog the next amazing flyball champion? Consider this amazing result: Twini managed to complete a full flyball course in 4.93 seconds in 2005 in France. Perhaps you had better start training!
Many dog owners have heard of agility training for dogs. This is a fantastic sporting activity which involves dogs racing through an obstacle course under the owner's control in a race to achieve a balance of minimum time but maximal accuracy. Can you envisage it your perfect pooch racing against the world's best as it clears hurdles, races through tunnels, weaves perfectly through a series of upright poles and scales ramps all under your perfect control? You and your dog are both champions of the meet! The crowds cheer; your dog jumps into your loving arms and you collect an amazing trophy....
Perhaps you are more of a water sports fan. You spend hours watching the water sports at the Olympics. Perhaps your dog is one that you can't seem to stop from racing off at the beach and jumping into those amazing breakers. Don't despair. There is a sport for your dog coming our way. Dock dogs is a fun performance water sport for dogs which is only in its infancy in Australia but is very popular in the USA and Canada and would be perfect for the sporting breed dogs. Can you see your dog being crowned the champion in the big air', extreme vertical' or speed retrieve' division? Dogs leap off the end of a pier or platform into the water, seeking to jump the highest, furthest or be the fastest to retrieve a toy. Surely this is a canine sport destined for popularity in Australia with our water and beach culture.
The sporting achievements of dogs are never ending. What about the amazing Iditarod sled dog races as an incredible endurance sport for dogs. Who doesn't know about the incredible speed of greyhounds as witnessed in regular greyhound races? Sheepdog trials are held where dogs muster livestock with speed and accuracy. There are many, many more sports open to dogs and their owners which are enjoyable and great for the dog's physical and mental stimulation.
A very easy sporting endeavour to try out with your dog this Olympic period is Frisbee or disc catching. How about heading down to the local park and throwing a Frisbee or catching disc around with your canine pal? With a little bit of dog training you might find yourselves competing at the Frisbee Dog World Championships. In 2011, M a Border Collie who competes internationally in agility trials, made the Guinness Book of World Records for catching 16 flying discs in 3 minutes. Rose from the USA can catch 7 flying discs one at a time and hold them all in her mouth at once! Maybe a record to aspire to!
One amazing, and somewhat unusual sporting feat achieved by a dog was recorded by the Guinness Book of World Records in 2007 when an Australian Shepherd/Border Collie cross called Sweet-Pea jump-rope skipped 75 times in 1 minute!
So whether you and your dog are armchair Olympians or Guinness Book Record holding sporting icons, there is a world of fun and easy-to-participate-in canine sports out there to be enjoyed. Take some inspiration from all your human sporting heroes racing against the clock in London these next few weeks and stock up on just a couple of pet supplies to encourage your dog out and about. Take your dog out for a walk, out for a run to chase dog toys, or out to catch a Frisbee they'll love you for it, even if they aren't the next world champion.