Stronghold for Cats & Dogs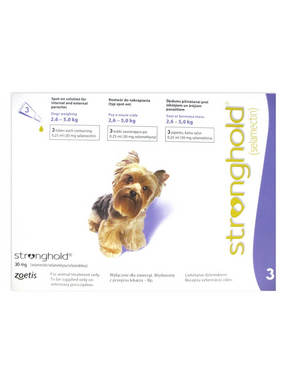 Stronghold for Cats & Dogs
Kills adult fleas, flea eggs and flea larvae in the environment. Treats, controls and prevents flea infestations. Controls Flea Allergy Dermatitis (FAD).
For the prevention of heartworm disease (with monthly administration) caused by Dirofilaria Immitis.
For the treatment of ear mites (Otodectes Cynotis), adult roundworms (Toxocara Cati), adult intestinal hookworms (Ancylostoma Tubaeforme), and biting lice infestations caused by Felicola Subrostratus.
Style Number: STRO-CONFIG
Product Detail: Stronghold for Cats & Dogs
Stronghold for Cats & Dogs
Stronghold is a topical treatment that protects your dog or cat from a broad spectrum of parasites. Stronghold is formulated to ease the process of preventing heartworms in pets, controlling flea infestations, and treating ear mites. It also works in treating tick infestations and sarcoptic mange in dogs, and is effective in controlling roundworms and hookworms in cats.
Just like other heartworm medications, Stronghold is a preventative medication and does not address existing heartworm. Make sure your pets get tested for heartworm first.
How Stronghold for Cats & Dogs works
Stronghold may be applied on dogs and puppies from 6 weeks of age, and cats and kittens from 8 weeks of age. Stronghold has been proven safe for use with pregnant and lactating dogs and cats.
What is the active ingredient in Stronghold?
Active ingredient:
How can Stronghold for Cats & Dogs be properly administered?
Administer Stronghold as a single monthly treatment, with the exact dosage based on the animal's body weight. Apply the entire pipette as directed. Do not apply more than once per 30 days.
Stronghold must be given as a single application of a single dose delivering a minimum of 6 mg/kg selamectin. When concurrent infestations or infections in the same animal are to be treated, only one application of the recommended 6 mg/kg dose should be administered at any one time.
What are the side effects when using Stronghold for Cats & Dogs?
Reports show that the most common side effects after treating pets with Stronghold are inflammation and temporary hair loss at the site of application. Other reported side effects include decreased appetite, diarrhea, drooling, and muscle tremors.
---
---
Stronghold for Cats & Dogs
Ratings & Reviews
Based on
2
Review(s)
Most Recent Reviews
Great Product
Written by
Staraut
Mar 05, 2019
I've been using this product for years on both my dog and cat (he's indoor/outdoor) with no side effects. Very good at flea control. Decent with the ticks too, although the pets can still carry them in the house and I'll find ticks (3 or 4 per year) crawling up the curtains and walls in late July and August. I think that is just because we haven't had severe winters the last 3 years and the insects survive better. I like that it covers worms and lice too. I am so thankful that I can buy it here at Pet Shed for the best price available! Highly recommended!
fantastic
Written by
Neva
Mar 13, 2018
i use stronghold, revolution or advocate depending on which i can get the best deal on. I have 4 cats and 4 dogs...these are the best products i have ever used... no issues for the animals and oh so easy to administer!