Blog August 1, 2019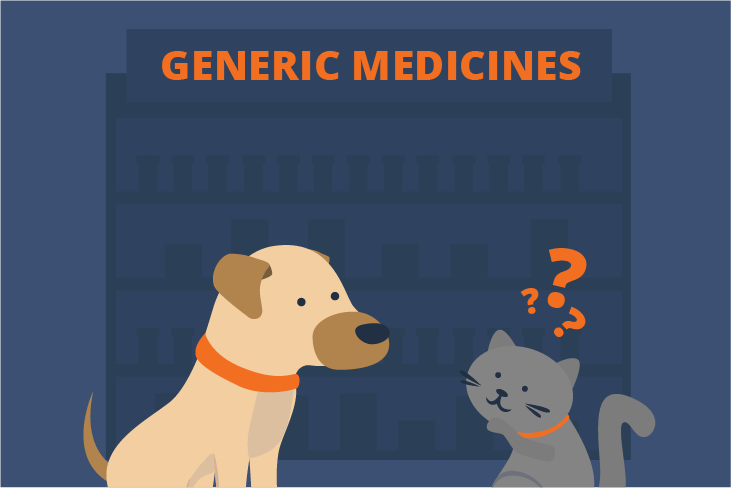 What are generic pet meds?
Generic pet meds are made to work the same way brand-name medicines do. Generic pet meds and brand-name medicines have the same active ingredients, so they have the same risks and benefits as the latter. Furthermore, generic medications are created to be the same as existing brand names in the following aspects:
quality;
strength;
unit doses;
safety and performance characteristics;
effectiveness;
stability; and
why and how pets must take the medicine
Therefore, generic medicines can be considered the same or an equal substitute for their brand-name counterparts.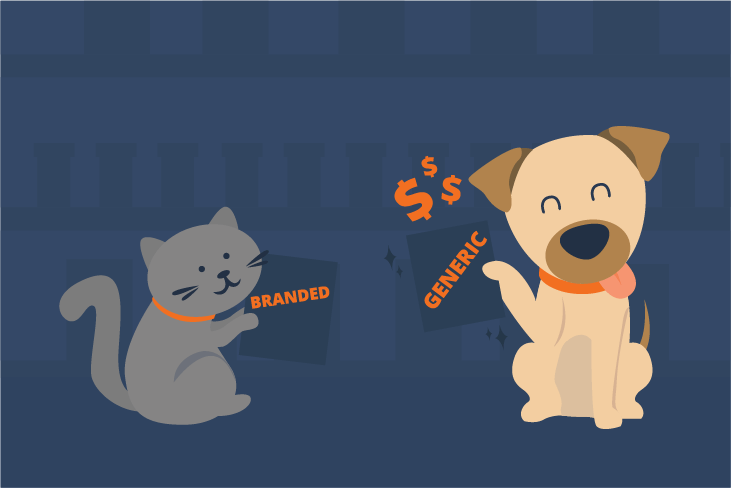 Generic versus brand-name pet meds
One significant difference between generic and branded medicines is that generics can save you lots of money. Estimates show that you can save at least two-thirds the cost of a branded pet med with a generic pet med. This point is essential as health should be a number one priority and should not be taken for granted because of money.
Now you might be wondering why generics cost much less than the branded medicines. Well, a brand-name medicine is the first of its kind medicine and for a pharmaceutical company to put its pet med to the pharmacy shelf is expensive. Being the first medicine of its kind, it means that the pharmaceutical company gets to "brand" the name. And for companies to launch a new medicine, money is invested for research, large scale medicine testing, including of course marketing, advertising, and promotion.
For pharmaceutics to spend such a significant investment, the FDA gives patent protection and rights to brand-name medicines. This patent will provide exclusive rights for the brand to sell the pet med for 12 years exclusively. Once a patent ends, other companies are then allowed to make generic versions of a brand-name medicine. Since these medications have been developed and have undergone prior testings by brand-name companies, generic pharmaceutics costs are relatively low.
Why do they look different?
So, if generic medicines and brand-name medicines contain the same active ingredients, then why do generic medicines they look different from branded ones? Well, that is because trademark laws don't allow a generic medication to look similar to other pet meds that are already in the market. Hence, you may find minor differences that do not affect the performance, safety, or effectiveness of the generic medicine.
They may have a different shape, color, packaging, and labeling. Generic pet meds are also allowed to have different inactive ingredients from brand-name medicines. For example, they can change or add some flavoring or preservatives.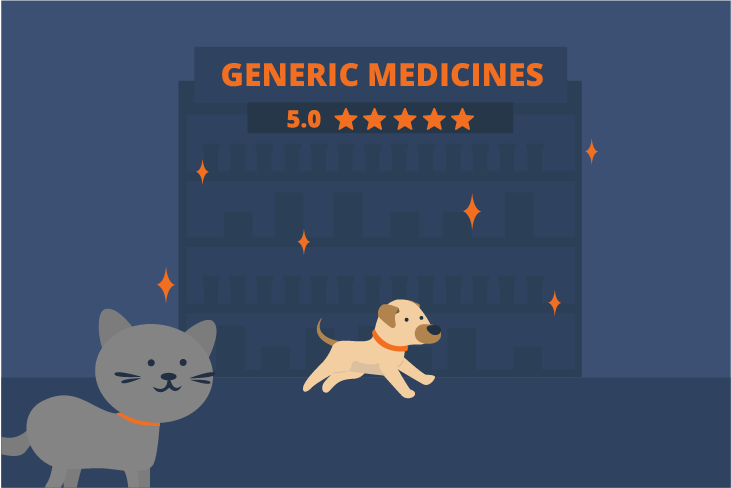 What about quality?
Generic medicines must meet the same standards as branded medicines. A generic pet meds can be taken the same way as you would a branded medicine and for the same reason.
Generic pet meds must be similar to brand-name medicines in:
Strength
Active Ingredient
Testing standards
Ability to reach the needed level in the bloodstream at the right time and to the same degree
Type of medicine (tablet, inhaler, or liquid, etc.)
Use and effect