Can a Natural Wormer for Dogs Save You Money?
Everyone likes a bargain. May it be a nice pair of shoes or a sleek gadget, people want a good discount every now and then. And it would even be better if they could get them for free! Needless to say, as long as people can save a couple of dollars from it, then they're all for it. The same goes when people pay for products and services for their pets. These days, many pet owners are finding different ways to save money especially on medical bills. So, it's no longer surprising that more and more of them are turning to natural remedies for various health problems.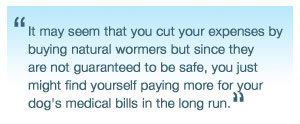 Natural Wormer for Dogs
One of the most popular alternative treatments is the natural wormer. Even though there are already countless conventional wormers in the market, there are still those who choose non-traditional solutions to worm infestation. Just some of the well-known natural wormers for dogs include black walnut, garlic, oregon grape and wormwood. Undeniably, one of the biggest appeals of natural wormers is their price. Unlike traditional wormers that are sold in the market, natural wormers are inexpensive and, in some cases, they even come for free. But can they really help you save money?
The Real Deal with Natural Wormer for Dogs
Many people are lured into buying natural wormers because of their advantages. After all, what's not to like about natural wormers? They're cheap, they're natural and they're safe. Or are they? If something is taken from nature, it is not a guarantee that it's safe. In some cases, these natural remedies are actually poisonous to dogs. A good example would be garlic. This member of the onion family contains
N-propyldisulfhide
and
S-methyl cysteine sulfoxide
, chemicals that are believed to be harmful to dogs.
Wormwood is another popular dewormer for pets. However, just like garlic, this too contains a substance that is dangerous for dogs. Wormwood is also known as a good source of absinthe, an ingredient that can cause nausea, vomiting and seizures in humans.
So, can a natural wormer for dogs save you money?

The truth is there's no definite answer to this question. It may seem that you cut your expenses by buying natural wormers but you have to keep in mind that since they are not guaranteed to be safe nor effective, you just might find yourself paying more for your dog's medical bills in the long run. Natural wormers sound too good to be true, and they probably are. Keep in mind that there have been no proper trials to show whether these natural wormers do actually get rid of worms, so you should not always trust them. It is better to shell out a little more now and be guaranteed of the long-term benefits than pay for nothing and wind up regretting it at the end of the day. Plus, there's no harm in seeking a professional advice, is there? Besides, why be frugal when your pet's health depends on it?