Pet Edge Pawprint Carseat Cover-Back Seat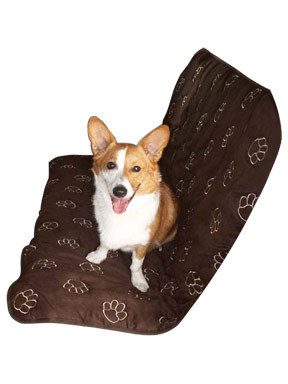 Pet Edge Pawprint Carseat Cover-Back Seat
Information About Pawprint Carseat Cover-Back Seat:
Travel with your pet in style. This plush Pawprint Carseat Cover-Back Seat provides comfort for your pet during those long drives while protecting your car?s upholstery from scratches and stains. Made of 100% polyester, this car backseat cover can withstand wear and tear. It is 55 inches long and 42 inches wide, allowing it to completely cover your car?s backseat.
This cozy Pawprint Carseat Cover-Back Seat comes with attachment straps that allow you to easily install it. The straps keep the cover in place so that it doesn?t crease nor slip. This car backseat cover also includes belt holes so you can thread the car safety harness through it. This product is machine washable.
Unique Features of Pawprint Carseat Cover-Back Seat:
Made of 100% polyster
Provides comfort to your pet
Keeps car upholstery protected from scratches, stains and other damages
Comes with attachment straps to keep the cover in place
With belt holes for threading car safety harness
Features a cute pawprint design
Measures 55" long and 42" wide, so it can fit most car backseats
Care Instructions:
Machine wash in warm water
Dry on low heat
Sorry, but this item is sold out. View others like it below
Style Number: PEB-ACK-00004-CONFIG
---
Pet Edge Pawprint Carseat Cover-Back Seat
Ratings & Reviews
Based on 0 Review(s)