Penn Plax Home & Away Crate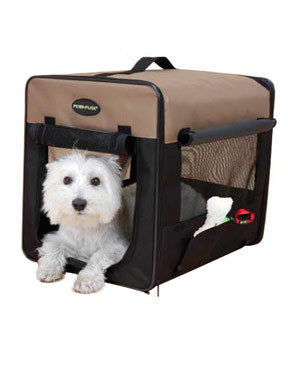 Penn Plax Home & Away Crate
Information About Home & Away Crate:
When you travel, you don?t have to make do with bulky pet crates anymore. Here?s a convenient and comfortable cat or dog crate for your traveling companion. Home & Away Crate can be folded flat so you can easily bring it anywhere. And setting this pet crate up is also trouble-free with its Pop & Zip assembly. You can use this pet travel accessory either indoors or outdoors, and is water resistant.
For your pets, the crate would be their home away from home. Home & Away Crate comes with a cozy fleece pad inside, and is equipped with extra large windows for ventilation. This portable cat and dog crate is available in six sizes, and comes in Beige/Black coloring.
Unique Features of Home & Away Crate:
Portable pet crates that can be folded flat
Trouble-free set-up with its Pop & Zip assembly
Can be used indoors and outdoors
Water resistant
Comfortable travel and rest with its cozy fleece pad
Good ventilation with its extra large windows
Available in Beige/Black coloring
Comes in the following sizes:

12"W x 14"H x 14"D for cats and puppies
18"W x 16"H x 14"D for small dogs like Bichon Frise, Maltese, & Yorkshire Terrier
25"W x 18"H x 21"D for small to medium sized dogs like Boston Terrier, Pug, & Shih Tzu
31"W x 22"H x 24"D for medium sized dogs like Cocker Spaniel, Brittany, & Beagle
37"W x 22"H x 28"D for medium sized to large dogs like Bulldog, Australian Shepherd, & Collie
43"W x 28"H x 32"D for large dogs like Labrador Retriever, Doberman, & Boxer
Sorry, but this item is sold out. View others like it below
Style Number: PPX-ACK-00001-CONFIG
---
Penn Plax Home & Away Crate
Ratings & Reviews
Based on 0 Review(s)