Penn Plax Heavy Duty Tree-Around Cable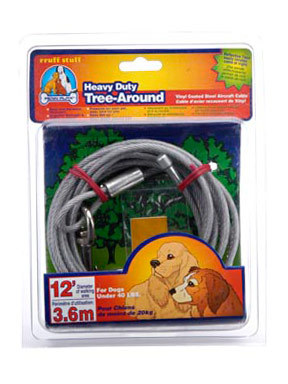 Penn Plax Heavy Duty Tree-Around Cable
Information About Heavy Duty Tree-Around Cable:
Give your dogs their much needed freedom while keeping their safety with Heavy Duty Tree-Around Cable. This yard containment system has a strong and durable construction which can stand against your energetic companion. Its safety design ensures your dog can play around without entangling or injuring itself. Only this pet containment tool can give you unequaled peace of mind.
Heavy Duty Tree-Around Cable is resistant to rust and abrasion so is it for long-lasting use. This security aid is for dogs that weigh less than 40 lbs. It can be used with trees upto 22" in diameter and gives your dog freedom of 12-foot in diameter. To help locate cable at night, small pieces of reflective tape is included.
Unique Features of Heavy Duty Tree-Around Cable:
Superior strength and safety
Rust and abrasion resistant
Durable construction
For dogs under 40 lbs.
Style Number: ACC0301-CONFIG
---
Penn Plax Heavy Duty Tree-Around Cable
Ratings & Reviews
Based on 0 Review(s)