Penn Plax Dog Crate Cover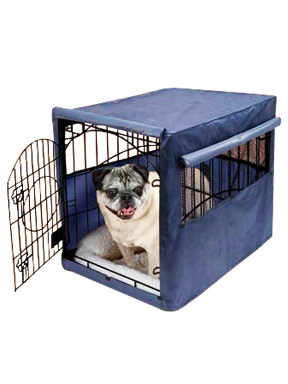 Penn Plax Dog Crate Cover
Information About Dog Crate Cover:
Bare dog travel crates can be uncomfortable because it is too open to all elements. Use Dog Crate Cover to give your pets a sense of security and turns your metal crate into the perfect sleeping den. Show how much you value your best canine friend with this dog crate travel accessory.
Dog Crate Cover will provide complete shade and protection for your dogs. This easy to install and stylish cover for dog crates is available in 5 dimensions to fit a wide range of dog breeds, from small to large sizes. The dimensions of this cover perfectly fit crates of the same measurement.
Unique Features of Dog Crate Cover:
Stylish and attractive design
Reduces barking and stress
Provides complete shade and protection
Easily installed
Perfectly fit crates of the same measurement
Available in the following dimensions:

24" L x 18" W x 21" H for small dogs
30" L x 21" W x 24" H for small to medium sized dogs
36" L x 24" W x 27" H for medium sized dogs
42" L x 28" W x 31" H for medium sized to large dogs
48" L x 30" W x 33" H for large dogs
Sorry, but this item is sold out. View others like it below
Style Number: ACC0311-CONFIG
---
Penn Plax Dog Crate Cover
Ratings & Reviews
Based on 0 Review(s)