Lupine Jelly Roll Dog Collar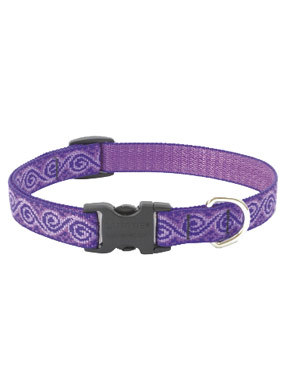 Lupine Jelly Roll Dog Collar
Information About Jelly Roll Dog Collar:
Your pet will always be in fashion and safe with this cute dog collar. Jelly Roll Dog Collar has an attractive design will make your dog stand out from the rest. This dog collar is strong yet lightweight so your pets will be comfortable wearing it. With its welded steel D-ring and heavy duty side release clasp there is security and ease of use.
Jelly Roll Dog Collar webbing width that is ideal for for the widest range of breeds - from small to large dogs. The designer dog collar comes in attractive swirl prints. As with all Lupine products, this dog collar is backed by a replacement guarantee - even if chewed or scratched!
Unique Features of Jelly Roll Dog Collar:
Strong collar made from lightweight materials
Welded steel D-ring for secure use
Heavy duty side release clasp for easy access
3/4" webbing width is ideal for the widest range of dogs
Delightful Dolphin Bay pattern
Comes with a replacement guarantee - even if chewed or scratched
Great to use with Dolphin Bay leads
Available in the following sizes:

9"-13" is for small dogs like Boston Terrier, Pug, & Shih Tzu
12"-20" is for medium sized dogs like Cocker Spaniel, Brittany, & Beagle
15"-25" is for large dogs like Bulldog, Australian Shepherd, & Collie
Care Instructions:
Machine wash in warm water
Use mild soap
Air dry
Do not use bleach
For extreme situations, pre-soak in an enzymatic cleaner like Nature?s Miracle or Simple Solution
How to Measure the Correct Collar Size:
To determine collar size, use a dressmakers tape to measure around the middle of the neck. Measure snugly, against the skin, not how you?d like it to fit. Whatever that measurement is, add in 5% extra for wiggle-room. This gives you a good approximation of the current size of the dog. For adjustable collars, measure around the mid-point of the dog?s neck.
Sorry, but this item is sold out. View others like it below
Style Number: ACC0051-CONFIG
---
Lupine Jelly Roll Dog Collar
Ratings & Reviews
Based on 0 Review(s)