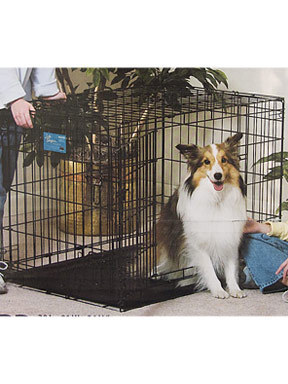 Life Stages 2 Door Crate
Information About Life Stages 2 Door Crate:
The Life Stages 2-door Crate are designed to be every dog?s home for life. With an adjustable divider panel, it is the ideal crate for dogs of all sizes - even if you have more than one. The dog crate's optional detachable wheels give it mobility and make sure it will not be a hindrance in and around your home. This dog crate also has doors on the side and front for easy access. Ideal for pet owners always on the go - now you can take your dog when you travel.
Life Stages 2 Door Crates is a versatile dog crate for home and travel use. Made from durable materials, this dog home and travel accessory is also designed with your pet's safety in mind with its rounded border wire on all six panels, and secure slide bolt latches. This dog crate is also friendly for pet owners, at home or on travels, as it comes with easy to clean ABS Plastic Pan. Available in black electro-coat finish, this crate for puppies and dogs comes in various sizes.
Unique Features of Life Stages 2 Door Crate:
Can be used at home and in travels
For use by puppies, and small to large dogs
Includes a divider panel so length can be adjusted as the dog grows
Optional casters/wheels for mobility
Easy access through front and side doors
Made from durable materials
Safe for pets with its rounded border wire on all six panels, and secure slide bolt latches
Comes with easy to clean ABS Plastic Pan
Has black electro-coat finish
Available in the following sizes:

X-Small measures 22" x 13" x 16", for puppies and tiny dogs like Chihuahua & Pomeranian
Small measures 24" x 18" x 21", for small dogs like Boston Terrier & Pug
Medium measures 30"x21"x24", for medium sized dogs like Cocker Spaniel & Beagle
Large measures 36"x24"x27", for large dogs like Australian Shepherd, & Collie
X-Large measures 42"x28"x31", for extra large dogs like Doberman, & Rhodesian Ridgeback
XX-Large measures 48"x30"x33", for giant dogs like German Shepherd & Great Dane
Style Number: JBW-ACK-00007-CONFIG
---
Life Stages 2 Door Crate
Ratings & Reviews
Based on 0 Review(s)