Jax and Bones Dots Flocked Fabric Lounge Bed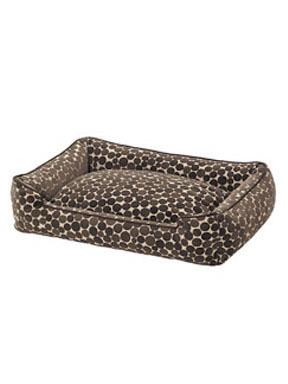 Jax and Bones Dots Flocked Fabric Lounge Bed
Information About Dots Flocked Fabric Lounge Bed:
Instead of resting on an ordinary dog bed, let your pet sleep in comfort with Dots Flocked Fabric Lounge Bed. This unique bolster dog bed has a surrounding padding where your dog can snuggle and rest its head. The removable pillow insert of this bed also provides superb comfort. The cover of this bolster dog bed is made from one of the most durable fabric in the market, the flocked fabric. This bolster bed for dogs comes in fancy dotted pattern.
Dots Flocked Fabric Lounge Bed is easy to keep clean as the cover is machine washable. This removable cover can be used as a mat for crates. The dog bed is available in 3 sizes.
Unique Features of Dots Flocked Fabric Lounge Bed:
Ideal for dogs that love to snuggle
Has a surrounding bolster
Cover is made from durable flocked fabric
Includes a removable pillow insert
Cover is machine washable
Removable cover can be used as a mat for crates
Comes in fancy dotted pattern
Available in the following sizes:

Small (22" x 14" x 8") is for small dogs like Boston Terrier, Pug, & Shih Tzu
Medium (32" x 23" x 10") is for medium sized dogs like Cocker Spaniel, Brittany, & Beagle
Large (44" x 35" x 14") is for large dogs like Bulldog, Australian Shepherd, & Collie
Care Instructions:
Remove cover
Machine wash in cold water
Air dry
Do not use bleach
Style Number: BED0239-CONFIG
---
Jax and Bones Dots Flocked Fabric Lounge Bed
Ratings & Reviews
Based on 0 Review(s)