Jax and Bones Classic Custom Square Pillow Bed - Heirloom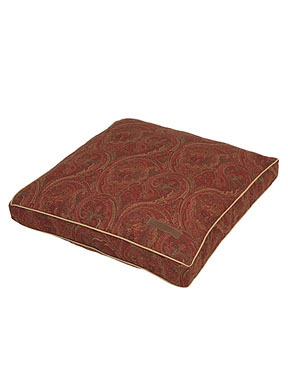 Jax and Bones Classic Custom Square Pillow Bed - Heirloom
Information About Classic Custom Square Pillow Bed - Heirloom:
For dog beds, comfort and durability is an ideal combination. With Heirloom Classic Custom Square Pillow Bed your dogs not only get these two features. Your pets also get to rest on a beautifully designed bed. Durability is assured because of the superior upholstered cotton fabric the bed is made of. Its removable signature channeled insert guarantees that this canine bed can remain full for years. The insert with high quality memory poly fill provides softness and fluff making this unique dog bed also useful for pets that need orthopedic support.
Classic Custom Square Pillow Bed ? Heirloom is completely washable so it is easy to clean. Its rich red undertones enhance its intricately designed print to make this a very elegant bed for dogs. With its classic design and appeal plus its promise of longevity, it will most definitely be one of your pet heirlooms. For one to fit your dog, you can choose from 3 bed sizes.
Unique Features of Classic Custom Square Pillow Bed - Heirloom:
Gives your pet orthopedic support
Made from premium upholstery grade fabric
Has a removable signature channeled insert with stitched pockets of down and high quality memory poly fiber
Guaranteed to retain its loft and fullness for years
100% washable
Comes rich red undertones with intricate design
Available in the following sizes:

25" x 25" x 3" is for small dogs like Boston Terrier, Pug, & Shih Tzu
30" x 30" x 4" is for medium sized dogs like Cocker Spaniel, Brittany, & Beagle
36" x 36" x 4" is for large dogs like Bulldog, Australian Shepherd, & Collie
Care Instructions:
Remove cover
Machine wash in cold water
Hang dry
Do not use bleach
Style Number: BED0160-CONFIG
---
Jax and Bones Classic Custom Square Pillow Bed - Heirloom
Ratings & Reviews
Based on 0 Review(s)