Happy Tails Reversible Shaggy Suede Pillow Bed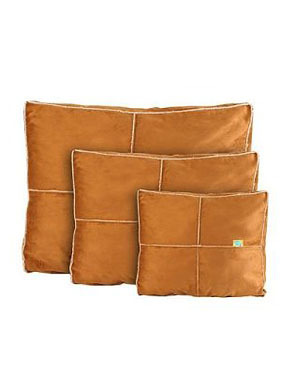 Happy Tails Reversible Shaggy Suede Pillow Bed
Information About Reversible Shaggy Suede Pillow Bed:
Provide your pets with a bed that can be used comfortably throughout the year. Reversible Shaggy Suede Pillow Bed bed for dogs has microfiber fabrics that are breathable so it keeps the bed cool in the summer and warm in the winter. And these fabrics can also repel dirt, hair and moisture.
This stylish dog bed has suede on one side and faux fur fabric on the other side. And it is overstuffed with polyfiber so your beloved canine will find the bed ultra soft and cozy.
The Reversible Shaggy Suede Pillow Bed bed cover can be removed and machine washed and dried so there is no problem in keeping it clean. What's more, you won't trouble finding one that fits your dog because the bed comes in three sizes: Small (24" x 20"), Medium (26" x 34"), and Large (32" x 42").
Unique Features of Reversible Shaggy Suede Pillow Bed:
Made with breathable microfiber fabrics that keeps the bed cool in the summer and warm in the winter
Fabrics repel dirt, hair and moisture
Has two different fabrics on each side ? suede and faux fur fabric
Overstuffed with polyfiber for ultra softness
Cover can be removed and machine washed in cold water then tumbled dry low
Available in the following sizes:

Small (24" W x 20" D) is suitable for small dogs like Pug, Bichon Frise, & Lhasa Apso
Medium (34" W x 26" D) is suitable for mid-sized dogs like Cocker Spaniel, Bulldog, & Puli
Large (42" W x 32" D) is suitable for large dogs like Dalmatian, Boxer, & Labrador Retriever
Care Instructions:
Slip off cover
Machine wash in cold water
Tumble dry on low setting
Sorry, but this item is sold out. View others like it below
Style Number: BED0258-CONFIG
---
Happy Tails Reversible Shaggy Suede Pillow Bed
Ratings & Reviews
Based on 0 Review(s)