Happy Tails Rectangle Pillow Bed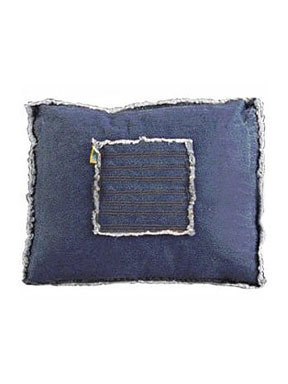 Happy Tails Rectangle Pillow Bed
Information About Denim Rectangle Pillow Bed:
Dog beds should feel as comfortable as an old pair of jeans. This is exactly the kind of comfort that Denim Rectangle Pillow Bed can provide your pet with its durable denim cover made from 100% cotton. It is also super soft and fluffy because of its extra poly fill. This take on the classic denim with frayed edge and a large faux jean pocket also provides for a fashionable bed for dogs.
Denim Rectangle Pillow Bed comes with an easy access zipper so the cover can easily be removed. And it is easy to clean the cover as it is machine washable. This unique canine bed is available in 32" x 42" and 38" x 48" sizes.
Unique Features of Denim Rectangle Pillow Bed:
Durable denim cover made from 100% cotton
Extra poly fill for fluff and softness
Fashionable design with its frayed edge and a large faux jean pocket
Comes with easy access zipper
Can be machine washed and dried
Available in the following sizes:

32" x 42" is ideal for small to mid-sized dogs like Jack Russell Terrier, Pekingese, & Fox Terrier
38" x 48" is ideal for mid-sized to large dogs like Bulldog, Border Collie, and Chow-Chow
Care Instructions:
Slip off cover
Machine wash in cold water
Tumble dry on low setting
Sorry, but this item is sold out. View others like it below
Style Number: BED0252-CONFIG
---
Happy Tails Rectangle Pillow Bed
Ratings & Reviews
Based on 0 Review(s)