Happy Tails Gusseted Suede Pillow Bed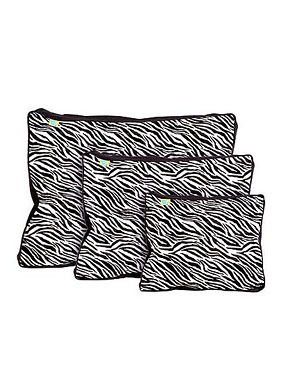 Happy Tails Gusseted Suede Pillow Bed
Information About Gusseted Zebra/Black Suede Pillow Bed:
If you?ve been searching for a solution that will keep your dog off the furniture, the Gusseted Zebra/Black Suede Pillow Bed is just the answer you need. The rectangular shape resembles an overstuffed head pillow of yours that your dog will quickly make home, and the super-soft faux suede bed is amazingly cuddly and comfortable for your canine friend. With black faux suede on one side of this dog bed and zebra striped faux fur on the other, both formed of microfiber material that breathes to keep cooler in the summer and warmer in the winter, your dog will find comfort throughout the year.
The overstuffed Zebra Print Suede Bed comes complete with a removable cover that can be machine washed and dried. And the fabrics of this bed for dogs can repel dirt, hair and moisture. Coming in three sizes - Small (24" W x 20" D); Medium (34" W x 26" D); Large (42" W x 32" D) - to suit almost any dog, the Zebra Print Suede Bed is easily appreciated by pet and owner alike.
Unique Features of Gusseted Zebra/Black Suede Pillow Bed:
Bed with black faux suede on one side and zebra striped faux fur on the other
Made of breathable microfiber material that keeps cooler in the summer and warmer in the winter
Super soft and cuddly overstuffed pillow bed
Fabrics repel dirt, hair and moisture
Can be machine washed and dried
Available in the following sizes:

Small (24" W x 20" D) is suitable for small dogs like Lhasa Apso, Jack Russell Terrier, & Pekingese
Medium (34" W x 26" D) is suitable for mid-sized dogs like Shetland Sheepdog, Fox Terrier, and Basenji
Large (42" W x 32" D) is suitable for large dogs like Dalmatian, Boxer, and Border Collie
Care Instructions:
Slip off cover
Machine wash in cold water
Tumble dry on low setting
Sorry, but this item is sold out. View others like it below
Style Number: BED0255-CONFIG
---
Happy Tails Gusseted Suede Pillow Bed
Ratings & Reviews
Based on 0 Review(s)