Canine Cushion Bolstered Orthopedic Sofa Bed with Fleece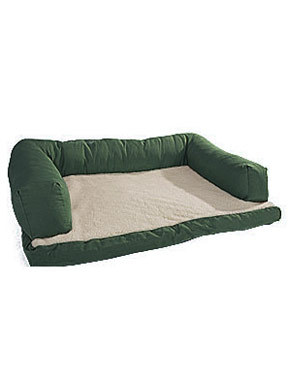 Canine Cushion Bolstered Orthopedic Sofa Bed with Fleece
Information About Bolstered Orthopedic Sofa Bed with Fleece:
Dogs with arthritis, dysplasia, or sore joints will be greatly relieved if they use an orthopedic dog bed. To adequately provide this relief let your pets use Bolstered Orthopedic Sofa Bed with Fleece. This canine bed has a thick convoluted medical grade foam base that helps ease stress on the affected areas of your dog's body. The bed's three sides are surrounded by a bolster filled with poly fiber that gives deep lavish comfort when your pet rests. This bolster provides added support that your dog needs.
Bolstered Orthopedic Sofa Bed has a fleece cover that is machine washable. This bed for dogs with orthopedic needs is available in Burgundy, Green, Navy, and Tan colors. And there are two sizes to choose from: Medium (30" x 40" x 1"), and Large (36" x 54" x 1").
Unique Features of Bolstered Orthopedic Sofa Bed with Fleece:
Base is made of convoluted medical grade foam to ease stress
Bolster on three sides for added support
Poly fiber fill for deep cushion
Removable fleece cover is machine washable
Available in these colors: Burgundy, Green, Navy, and Tan
Available in the following sizes:

Medium (30" x 40" x 1") can accommodate dogs that weigh up to 75 lbs like Doberman, Old English Sheepdog, and Rhodesian Ridgeback
Large (36" x 54" x 1") can accommodate dogs that weigh up to 120 lbs like Great Dane, German Shepherd, and Rottweiler
Care Instructions:
Remove cover
Machine wash in cold water
Wash and tumble dry in low setting
Style Number: BED0323-CONFIG
---
Canine Cushion Bolstered Orthopedic Sofa Bed with Fleece
Ratings & Reviews
Based on 0 Review(s)